1
« on: May 24, 2020, 04:35:16 AM »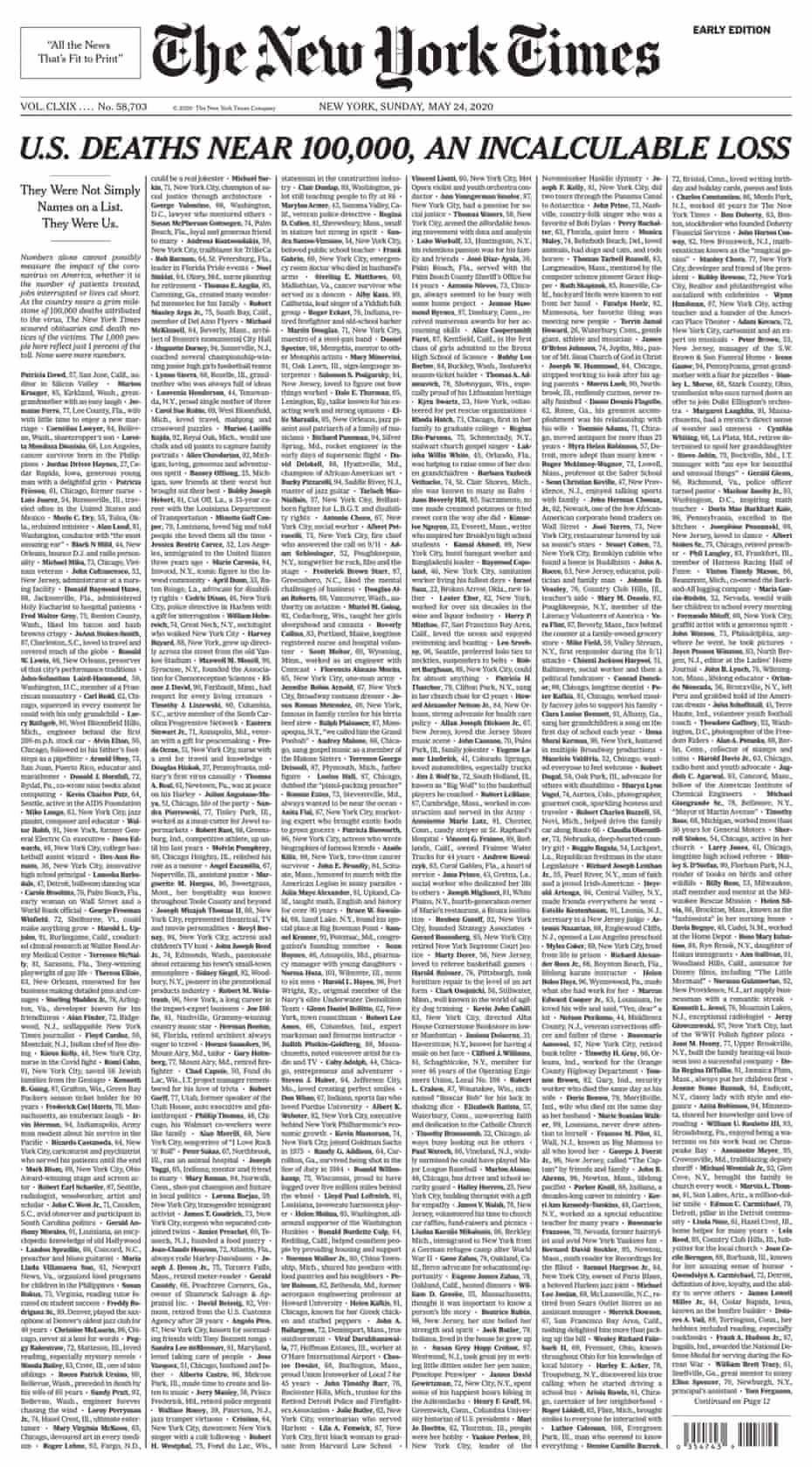 New York Times covers front page with 1,000 Covid-19 death notices
The New York Times has filled the entire front page of Sunday's paper with the death notices of victims from across the country.
--------------------------------------
Trump Plays Golf at His Virginia Club as U.S. Coronavirus Death Toll Nears 100,000
https://slate.com/news-and-politics/2020/05/trump-plays-golf-virginia-club-coronavirus-deaths-rise.amp
On a day when the number of deaths in the United States from the coronavirus got close to reaching the 100,000-mark, the presidential motorcade arrived at the Sterling club at 10:27 a.m. Reporters at the scene noted that while Secret Service members were all wearing masks, Trump and his golfing buddies went mask free. Footage from the golf outing appeared to show Trump riding in his golf cart by himself without a caddy. And there were at least some exceptions to social distancing rules as Trump could be seen patting another golfer on the shoulder at one point.
Trump's lack of golf has clearly been on his mind lately. "I'd really like to play golf but it's too busy right now," he told reporters earlier this month. He also called into a PGA golf program on NBC last weekend and talked about how much he yearned for the sport. "I do miss it. I haven't played, really, since this problem that we have started. I haven't been able to play golf for a while. I've been very busy, and I think that it's just one of those things, but we're getting back to normal," Trump said.
Andrew Kaczynski posted a clip on Twitter of Trump calling into Fox and Friends to complain Obama was playing golf when there were a whopping two cases of Ebola in the United States.
https://mobile.twitter.com/KFILE/status/1264224632976150529
----------------------------------------