1
« on: September 02, 2020, 03:08:43 PM »
Massive Release of Methane Gas from the Seafloor Discovered for the First Time in the Southern Hemisphere
https://phys.org/news/2020-09-massive-methane-gas-seafloor-southern.html
The data was collected during three offshore expeditions in the South Atlantic Ocean in 2011, 2013, and 2014 and have recently been processed and modeled at Linnaeus University, which resulted in the publication of an article in
Nature Communications.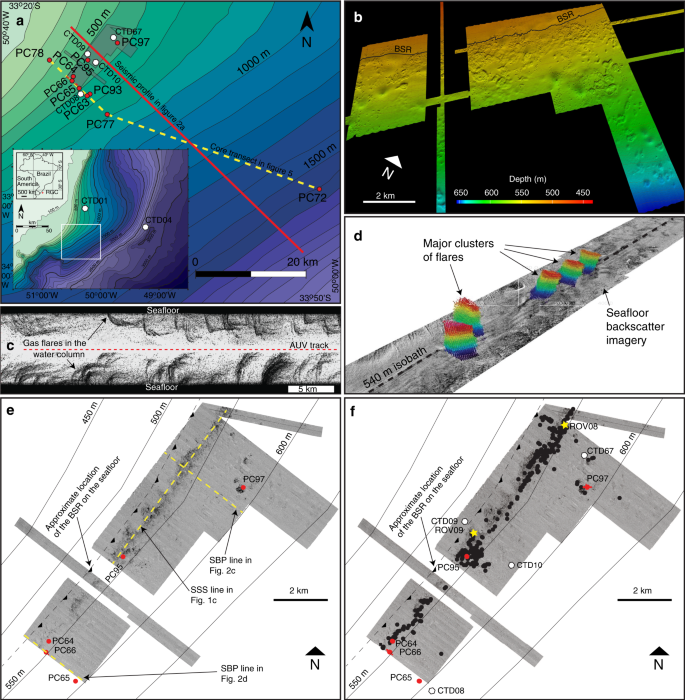 Location map and acoustic imagery of gas flares.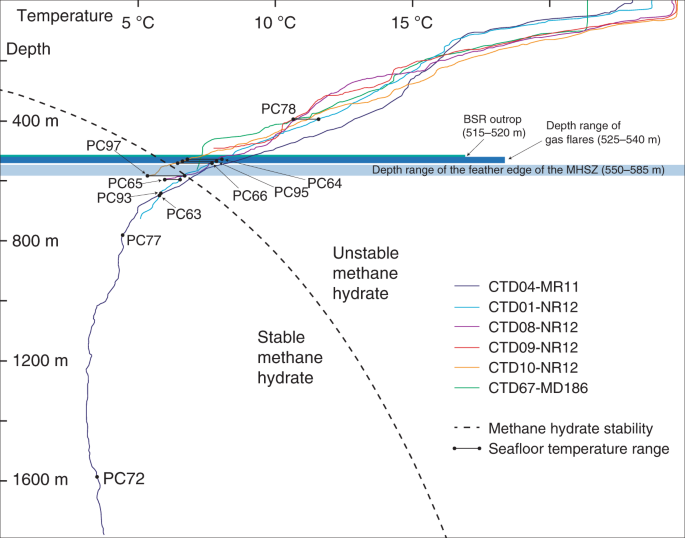 Marcelo Ketzer et al.
Gas hydrate dissociation linked to contemporary ocean warming in the southern hemisphere
,
Nature Communications
(2020).
https://www.nature.com/articles/s41467-020-17289-z
...
Our multi-disciplinary and multi-scale investigation of a bottom simulating reflector (BSR) outcrop on the southern Brazilian margin allows an investigation of gas hydrate dynamics and ocean interactions over long- (millennial) to short- (decadal) scales and provides the first robust evidence from the southern hemisphere of hydrate destabilization related to contemporary climate change.

Geochemical and geophysical data, including the first autonomous underwater vehicle (AUV)-borne sub-bottom profiles of a BSR outcrop, allow us to document a massive advective flux of methane through the feather edge of the GHSZ, resulting in the formation of an elongate pockmark field associated with hundreds of water column gas flares.

The pockmarks record long-term degassing, possibly in response to stable post-glacial water temperatures, while the observed BSR outcrop is in thermodynamic disequilibrium with bottom water temperatures and the present-day edge of the GHSZ, consistent with ocean warming over several decades. Our results add to growing evidence that gas hydrate dissociation and sediment degassing related to contemporary ocean warming is a global phenomenon.

The advective flux of methane through the feather edge of the GHSZ is three orders of magnitude greater than background diffusive flux and cannot be entirely consumed by anaerobic oxidation in the sediment, challenging the assumption that the sulfate filter prevents methane from reaching the seafloor. Nonetheless, gas bubbles are inferred to dissolve within 50 m of seafloor, consistent with methane oxidisation in the water column before reaching the atmosphere.

Estimated methane leakage rates at the edge of the GHSZ on the Brazilian margin are lower than those in the northern hemisphere, and indicate that hydrate dissociation may be an important process in the global carbon cycle and the Earth's climate in a long-term (e.g. 103 years) perspective.