1
« on: September 24, 2020, 09:03:55 AM »
Frequency of extreme precipitation increases extensively with event rareness under global warming
G. Myhre, K. Alterskjær, C. W. Stjern, Ø. Hodnebrog, L. Marelle, B. H. Samset, J. Sillmann, N. Schaller, E. Fischer, M. Schulz & A. Stohl
Scientific Reports volume 9, Article number: 16063 (2019)
Abstract
The intensity of the heaviest extreme precipitation events is known to increase with global warming. How often such events occur in a warmer world is however less well established, and the combined effect of changes in frequency and intensity on the total amount of rain falling as extreme precipitation is much less explored, in spite of potentially large societal impacts. Here, we employ observations and climate model simulations to document strong increases in the frequencies of extreme precipitation events occurring on decadal timescales. Based on observations we find that the total precipitation from these intense events almost doubles per degree of warming, mainly due to changes in frequency, while the intensity changes are relatively weak, in accordance to previous studies. This shift towards stronger total precipitation from extreme events is seen in observations and climate models, and increases with the strength – and hence the rareness – of the event. Based on these results, we project that if historical trends continue, the most intense precipitation events observed today are likely to almost double in occurrence for each degree of further global warming. Changes to extreme precipitation of this magnitude are dramatically stronger than the more widely communicated changes to global mean precipitation.

The increase in the frequency of extreme precipitation, i.e. the number of events per unit time with intensity above a given threshold, has generally received much less attention18,19,20,21. Unlike for intensity changes, the Intergovernmental Panel on Climate Change (IPCC) Fifth Assessment Report (AR5) gave no quantitative estimates of frequency changes22. Recent analyses of observations over Europe4,23 and over the US23,24,25,26 however show a substantial frequency increase. Here, we analyse a comprehensive data set of changes in the total amount of water falling as extreme precipitation, quantifying the contributions from changes in the intensity and the frequency, and including both observed and simulated precipitation. We investigate events that are rarer than those used in earlier studies, and find larger changes in the total amount of extreme precipitation than has been previously quantified.

To illustrate how changes to the total extreme precipitation are affected by both frequency and intensity, Fig. 1a shows a conceptualized probability density function (PDF) of daily precipitation corresponding to a reference surface air temperature (purple line), compared to one with a higher surface air temperature (orange). The increase in the intensity of heavy precipitation is illustrated by the horizontal blue arrow; the increase in frequency as the vertical green arrow. If we define "extreme" precipitation to be any event above a certain percentile, as illustrated by the dotted vertical line, Fig. 1a demonstrates that the total change in extreme precipitation amounts depends on changes to both intensity and frequency.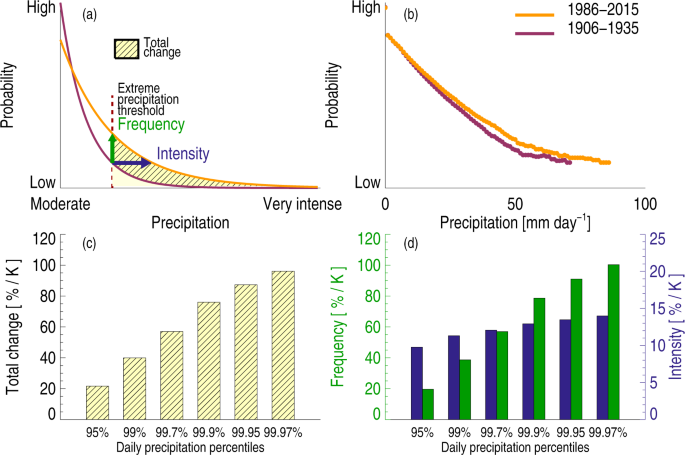 Further.
Heavy precipitation in Europe.
Not a file format that i can link to directly here please go to website.
https://www.eea.europa.eu/data-and-maps/indicators/precipitation-extremes-in-europe-3/assessment#:~:text=The%20intensity%20of%20heavy%20precipitation,eastern%20Europe%20since%20the%201960s.&text=Heavy%20precipitation%20events%20are%20likely,and%20eastern%20Europe%20in%20winter
.
Observed trends in maximum annual five-day consecutive precipitation in winter and summer.