1
« on: June 15, 2019, 05:46:14 PM »
Looking at this
https://phys.org/news/2019-06-link-north-atlantic-currents-sea.html
it seems a no brainer to me that if you have increased Arctic waters flowing down the coast lets say with the inherent inertia of 75
0
N then it'll have two main effects. The first is that it will force itself into the coast, and continue to do that further south. The second is that once it is forced by Gulf stream waters away from the coast those waters will mix until equilibrium is reached slowing down the gulf stream/north atlantic drift.
What does this model show if not that?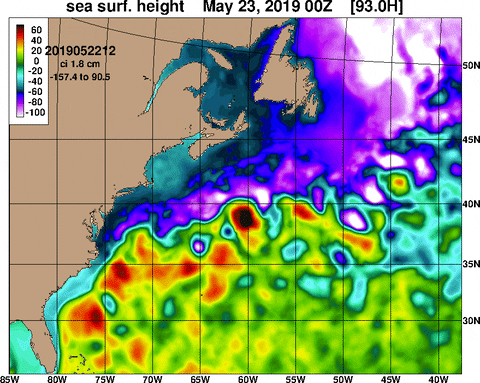 If you open
nullschool
and select O from projections you'll see from 90-60
0
N is about half of the distance of the equator from the axis of rotation and 30
0
N about an eighth of the distance. Thus the inertia of tropical waters is too low to separate from the coast until the distance to the axis [surface speed] begins to decrease, so I would expect the highest effects of slr to be where both streams detatch and all points north, until the water reaches equilibrium with rotational speed, which may vary but just now appears to be about 52N, so peaking around 41N. Why am I wrong?